LIVE Wednesday Night! I've decided to carve some time of out my busy schedule and offer a LIVE Web Class WEDNESDAY NIGHT @ 8:00 PM Eastern! I'll show you how you can be a Real Estate Investing Entrepreneur in 2016!  You will discover How To Find Deals, How To Fund Deals, and The Best Exit Strategies For Profit! Plus I will take you behind the scenes of recent deals that I have just completed.
Here is summary of what you will learn …

You will discover the Top 2 Strategies to Wholesale Houses, and I will also teach you an Advanced Strategy that most investors don't share. When I got started in real estate investing over 16 years ago, I did not have the money or credit to do conventional deals. I jumped into the business with both feet and became and Expert at Wholesaling Houses. I will show you how and why I still use this exit strategy today. This is how I got started over 16 years ago, and I still use this strategy today! You will discover the strategies that I use to find high profit deals. In my opinion, this is the most important component of real estate investing. If you don't know how to find high profit deals, nothing else matters. So we are going to start here.


You are going to discover when and why a property qualifies as a good candidate to Fix & Flip. I will virtually take you through a few recent fix and flips so you can see for yourself. You'll discover how I know what to offer for each property. I'll show you my inside secrets on how to make each offer with your profit already built in, and how to get a quick price opinion on each property before you even call the seller back. We'll go through the components of how to Fix & Flip Houses on real deals that I am currently working on.


Did you find the Perfect Property for your Retire Rich Real Estate Bucket? If you would like to Increase Your Net-worth and get Monthly Cash-Flow from Income Property, you will love this training! I'll show you can get up to 30% discounts on real estate in most cities. And you will also discover my Advanced Strategies that can make your phone ring off the hook with potential motivated sellers. You can turn this strategy on or off at will.
You will discover the Formula that I use to Profit. You will have the information that you need to build your profit in your offer price, no matter your exit strategy. I will share real life examples with you so that we can practice together!

At the end of the Live Web Class, we will finish with an Open Q&A Session to make sure that all of the pieces make sense and that you have the information that you need to Find Your Freedom through real estate investing.
only $27
What My Clients Are Saying …
"Brock, Thank You for the extensive phone consultation. I know we went over the time limit and I appreciate your willingness and desire to help me beyond the time limit set. Your knowledge of real estate and the application of your systems will definitely help guide me through this journey of being a real estate professional in my area.
After explaining my life's situations and real estate start up paralysis, you immediately identified my faults and with corrective, in depth simple explanation, put me back on the path I needed to pursue.
I am looking forward to continuing my real estate career with you in my corner and a profitable future based on the guidance you have provided me." [Henry Scheyer – Real Estate Investor]
Over the past 16 years, I've bought Millions of Dollars of Real Estate in a tiny little community in the Midwest – and as a result, I made an amazing discovery on how to find High Profit Deals and generate Big Profits! The best part is that in 99% of the cases, these are No Money Down Deals!
My name is Brock and I'm just an average guy in the Midwest who started with NOTHING but a dream. Because I took action steps to turn that dream into a reality I have bought about 100 Single Family Houses and Investment Properties! It would be a pleasure to help you Find Your FREEDOM and achieve your Real Estate Investing Goals!
The good news, I have spent that past 16 years specializing in buying tiny investment houses just like these with No Money Down Strategies. I have found great success and true Freedom by working hard, smart and treating real estate investing as a real business. However, I'm not saying that you will have the same success, or any. We've probably never met, and I don't personally know your work ethic, focus and dedication. Your success in life rest completely on your shoulders. However, for this private class, I am willing to show you behind the scenes of how I am successfully running my real estate investing business.
Would you like to buy tiny houses that can Increase Your Net-Worth Dramatically? Would you like to acquire investment properties that provide you Cash-Flow each month? This is what I call your "Retire Rich Real Estate Bucket". If you truly desire Freedom in your retirement years, you will want to pay close attention to this strategy! PLUS … when you Enroll in my
Live Online Webcast

, You will also discover how I get Five Figure Checks, just for buying the house!

I'll be the first to tell you that I am not an "Instant Success Story" like you may hear about on the internet or tv.
I was born and raised in a very blue collar family. We didn't have much, but we always had "enough". Maybe you can relate?
In my early 20's I saved up enough money to enroll in a small Junior College for one semester. I absolutely hated it, so I never went back. I worked every job under the sun, and after being frustrated, I took a job that I hated so I could pay the rent. I became a House Painter! I know … Glamorous, right?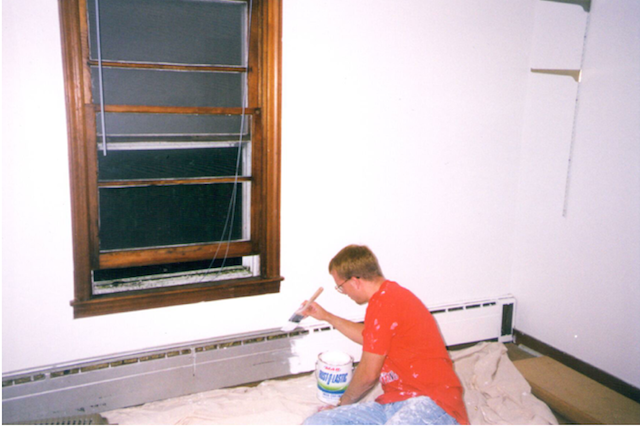 I painted houses for a number of years and then one day, I reached out to a local Real Estate Investor and asked him if he would Mentor me. He was a gift from God. My Mentor owned a lot of real estate in my area, and he had already accomplished what I wanted to accomplish. I had always dreamed about becoming a real estate investor, but I didn't know the action steps that I needed to do in order to get started. So I agreed to a Mentoring Agreement with this Investor, and I never looked back!
Thank You Brock!
"I have known for many years that working at a job my entire life was not the life that I wanted to live. I truly have a PASSION for life & its experiences. Personally, my value is in my TIME and my FAMILY, as opposed to punching a clock in the rat race every day. Although this was my mentality, I didn't know HOW to reach my goals.
His videos made so much sense that I HAD to buy two of his ebooks, and I attended his webinar that entailed an actual feedback session, where I could ask questions! The information is so invaluable that Brock presents. As a novice, I have began to utilize his exit strategies; I have just recently submitted two offers to purchase properties, with a goal of submitting five, daily.
Brock actually WANTS to help you succeed- wouldn't you agree that you're going to run into questions, once you get into the field? Use my testimony as proof that Brock is the real deal, ladies and gentlemen. Your help in real estate, starts here with Brock."
[Jessica Reaves – Real Estate Investor]
Still On The Fence?
Join me for this LIVE Web Class on Flipping Houses & Real Estate Investing Wednesday night. You can ask your questions LIVE, plus you will discover how you can get Private Coaching with me every week to help you with your Real Estate Investing Business. I want to get in the trenches with real estate investors who are hungry to pursue their Freedom through real estate investing. I am excited to Present this Live Interactive Training WEDNESDAY @ 8:00 PM Eastern, to just a handful of students who are ready to take their business to the next level.
I still run a full time Real Estate Investing Business in the Midwest, and my time is very valuable. However, if you want to get in profit mode faster, you can take advantage of my 16 years of experience in the trenches. Specializing in Wholesaling, Fix & Flips and acquiring Income Properties!
Wednesday Night at 8:00 PM Eastern, You'll discover how real estate investing can allow you to enjoy a life of True Freedom!

Secure your spot in my Live Interactive Training right now.  You can enroll in this Live Class with me for only $27.  If you want to know how I make money as a full time real estate investor for the past 16 years, Enroll Now.  You will receive your Private Access Credentials for my Live Video Channel and your Log-In Code.
My Live Video Feed is limited to just 13 Students and it fills up fast!  When we reach capacity, this Live Training will expire without notice.  So what are you waiting for?  Claim your spot below and I look forward to help you and answering your questions Live!

P.S.  If you get locked out because the Web Class has reached capacity, I want to give you a Free Gift!   I am the Founder of a Free Weekly Real Estate Investing Show on iTunes and Google Play.  Each week I interview Successful Real Estate Investors from all over the world and ask them to share their secrets with you.  I also share with you weekly lessons and tips that are happening in my investing business right now!  Be sure to check our my Freedom Real Estate Investing Podcast on iTunes!  You can Subscribe for Free Weekly Shows!
Click here to Listen and Subscribe on iTunes
Click here to Listen and Subscribe on Google Play